Guide for 100 Doors Brain Teasers 2 Walkthrough – How to help you find your way out for all 100 room ! solve addictive puzzles and open the door of each of the 100 rooms cheats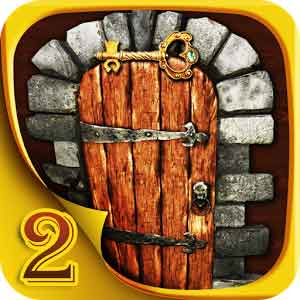 100 Doors Brain Teasers 2 app game by Muddassir Malik on iphone / ShEk Tech on android device
How to play 100 brain teasers 2 :
– Unlock the door to escape from the exit and get to the next door.
– To do that, use clues and solve puzzles
– You can pick certain items up and use them from your inventory to clear the floor.
– every locked door required out of the box thinking to exit and escape.
100 doors brain teasers 2 niveau 1 2 3 4 5 solutions :
100 doors brain teasers 2 level 1 walkthrough
Blue dot : 1×1 = 1
Purple dot : 2×2 = 4
Green dot : 3×3 = 9 so enter 9 for the answer

100 doors brain teasers 2 level 2 walkthrough
tap the telescope to get the key on floor
use it to open the left cabinet for paper clue : red book
get red book on bookshelf and open it for hint : visible at night – 28
enter 28 and crescent moon

100 doors brain teasers 2 level 3 walkthrough
count how many cakes on this room
the answer is 3

100 doors brain teasers 2 level 4 walkthrough
clue = hang on, so count how many monkeys
enter 16 on keypad

100 doors brain teasers 2 level 5 walkthrough
move the 3rd item to the left box and the rest to the red box

100 doors brain teasers 2 nivel 1 2 3 4 5 solutions :

It is a level based game and the levels can be categorized into four door types. In the first type user has to look for clues and find a numeric based, a color sequence based or a text based code to open a door. In the second type user needs to look for objects, combine them and find a key. In the third type user needs to move four images into one of the two boxes in the room. In the last type of rooms user needs to use a map to find a clue.
more 100 doors brain teasers 2 cheats :
100 doors brain teasers 2 level 6 7 8 9 10 walkthrough
100 doors brain teasers 2 level 11 12 13 14 15 walkthrough
100 doors brain teasers 2 level 16 17 18 19 20 walkthrough
100 doors brain teasers 2 level 21 22 23 24 25 walkthrough
100 doors brain teasers 2 level 26 27 28 29 30 walkthrough
100 doors brain teasers 2 level 31 32 33 34 35 walkthrough
100 doors brain teasers 2 level 36 37 38 39 40 walkthrough
100 doors brain teasers 2 level 41 42 43 44 45 walkthrough
100 doors brain teasers 2 level 46 47 48 49 50 walkthrough
Incoming search terms:
100 doors brain teasers 2 level 31
100ドアーズぶれいん2
100 doors brain teasers ii
100 brain teasers 2
100 doors brain teasers 2 level 17
100 doors brain teasers 2 level 1