Guide for 100 Floors of Christmas Walkthrough can you make it to the top ? enjoy this game and make it to the next christmas floor by solving the puzzle ! use all the functions of your device. Tilt, shake, tap, touch, slide. Look for leads and clues.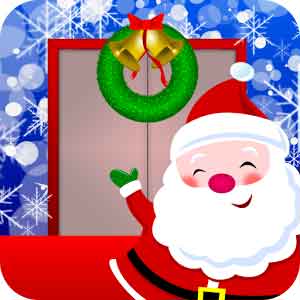 100 Floors of Christmas Room Escape Games by Cliff Drop Apps on android & iphone
How to play :
Move objects, tilt, shake, pinch and swipe to find a way to solve the puzzle.
Pick up items and use them from your inventory to help you find the solution.
100 Floors of Christmas Nivel 1 – 8 solutions :

100 floor of christmas level 1 walkthrough
tap the green lift button to open door
click santa to proceed for next stage
100 floor of christmas level 2 walkthrough
turn on all candles by pressing the handle
when you have all candle lit on tap the lift button
100 floor of christmas level 3 walkthrough
tilt your phone to left so the sleigh moving
press the elevator button
100 floor of christmas level 4 walkthrough
tap and hold the reindeer until the black bar above bar full and you will have the elevator button turned green
tap it to open door
100 floor of christmas level 5 walkthrough
drag all the baubles to the christmas tree so you can tap the lift button
100 floor of christmas level 6 walkthrough
shake your phone so the axe appear on bottom left side
get the axe and cut down all christmas tree
tap the elevator button on right side
100 floor of christmas level 7 walkthrough
Enter : Santa
you need to spell "santa" from the keypad
press these numbers : 72682
100 floor of christmas level 8 walkthrough
just follow the green light, you need to tap the same order where the green lights appear
when you have all 5 red lights under door turned green then you can tap the lift button
Challenge yourself in this fun and popular christmas puzzle game! Solve the puzzle and advance to the next floor. Be the one to reach the top floor and tell your friends about it!
next niveau :
100 floors of christmas level 9 – 16 walkthrough