Guide for Detective Story Walkthrough – Investigate homicides around the city, feel the thrills of new york ! examine evidence, search for clues and find hidden objects to solve cases so you can arrest the criminals !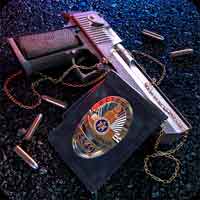 прохождение Detective Story by Amphibius Developers on android device
step by step detective story walkthrough video guide

Detective Story Cheats :
tap on bottom middle ground and look at the phone with fingerprints : 2 4 9 0
use these code to open the box on ground near the car
obtain a cutting tool inside
go back and tap on the left electric panel, use the tool to cut the wires
look on left ground and pick up the wallet
give the wallet to the police and you will get the address :
24 East 70H Street
New York, NY 1082
use the postal code to open the left trash can lock
obtain a flashlight inside
use the flashlight to see the bottom left area on trash can near police
pick up a tweezers and use it to get key on right wall
use the key to open toolbox on left side for jack
use the jack on left trash can to get car key
open the car's trunk with key and you will finish no parking level
"Body found in car trunk after New York police chase"
Police officers and firefighters discovered a dead body in the trunk of a car abandoned after a police chase Thursday morning.
Detective Alex Calvino takes over this case. Could the gang problems, drug deals, and vandalism be related? Try your hand at investigating a murder and bring the killer to justice!
Detective Story Full Walkthrough

Detective Story All Levels Solutions :
Detective Story Level 2 A Deadly Affair Walkthrough
Detective Story Level 3 One Man's Treasure Walkthrough
Detective Story Level 4 Cops & Robbers Walkthrough
Detective Story Level 5 He's Dead She's Dead Walkthrough
Detective Story Level 6 Flowers for Your Grave Walkthrough
Detective Story Level 7 The Doll House Walkthrough
Detective Story Level 8 After Hours Walkthrough
Detective Story Level 9 Hazard Pay Walkthrough
Detective Story Level 10 Smells like death Walkthrough
Detective Story Level 11 A Deadly Game Walkthrough
Detective Story Level 12 Last Call Walkthrough
Join the Police of New York to solve a series of murder cases in this captivating room escape and hidden objects adventure game.
Investigate stunning crime scenes, spot clues, analyze evidence, interrogate suspects and make the arrests!
Are you ready to prove your detective skills? Then dive into "Detective Story" and become a New York City detective pursuing justice.