Guide for Troll Face Quest USA Adventure 2 Walkthrough how to solve each level puzzle and escape to the next stage ! Play the game and troll famous movie stars, popular characters from your favorite TV shows, and a few powerful politicians. Will you be able to troll President Trump during an epic hamburger eating contest? It's time to find out in this sequel, so find solutions of troll quest usa adventure 2 all levels to know where and when you need to click the object 🙂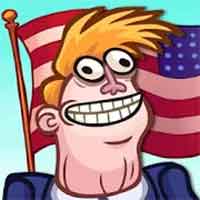 game available on iphone and android by Spil Games
step by step all levels troll face quest usa adventure 2 solution :

Troll Face Quest USA Adventure 2 Walkthrough
tap right cloud to pop out the sun
tap the sun until you win the game

tap and hold the president
you will see bunny ear
tap the statue of liberty then tap the man

tap obama then repeatedly tap the left man
open the cabinet then tap the man

tap and hold the woman until her head rotated
tap the woman 2x
tap the man then tap the woman

tap the man twice
tap the sand castle
tap the trollazon cardboard
repeatedly tap the cardboard to open the box with bald man

tap the screen of trollcoin
drag down the chart on screen
then tap the screen

tap and hold the dog
tap the sand then tap the man twice

drag down the sky
tap KFC 3x
tap MCD 3x
tap the fat man to win the game

drag down the troll vs raw poster
tap the man then quickly repeatedly tap the man that fall

pinch out the woman on left
tap the fat woman so she will rolling
tap on her once more to win

tap the toilet bowl
tap the right man
repeatedly tap the handshake
tap the hellboy

tap and hold the president
tap the bricks
repeatedly tap the wall
tap the man (ninja from twitch)

tap the right police
tap the left police
tap the sirine
tap the right man

drag the left man to right
tap the contract
tap the left man
now tap the angelina jolie
tap the car then tap the sock

tap and hold the right police
repeatedly tap the puke on floor

tap and hold the president
tap the food

tap the woman 2x
tap and hold the woman in meditation position
repeatedly tap the sun
The ultimate point and click adventure game is here, and its wild jokes will make you laugh for hours!
Join Troll Face as he blasts from coast to coast while trolling superstars, artists, athletes, and even politicians! This isn't fake news, Troll Face Quest: USA Adventure 2 really is here! Hurry up and play it now. This funny and puzzle-filled game might just make America great again!