Question for 94% Something People Now Do Online That They Used To Do In Person Answers with 2 others walkthrough of something for which you need to use coins and woman artist painting on canvas picture ! if you already use the joker hints then just find the 1st letter or count the words solution on the word list below and you can complete 94 percent of the given answers !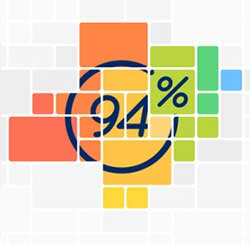 94% Something people now do online that they used to do in person
2% Read
4% Pay bills
5% Play games
6% Bank
9% Date
23% Shop
45% Communicate
94% Something for which you need to use coins
2% Toll booth
3% Bus
3% Slot machine
6% Pay phone
8% Laundromat
14% Parking meter
23% Arcade game
35% Vending machine
94% Woman Painting on Canvas picture
4% Easel
4% Brush
4% Canvas
4% Palette
5% Beret
21% Artist
23% Paint
29% Art
type in the words of you question and get stars when you complete each level ! challenges your brain and knowledge with this one of the best trivia puzzle : 94% game by Scimob, if you can't figure out the solutions then find all of them in 94 percent game answers list !