Question for 94% You Put Them In Your Ears Answers with 2 others walkthrough of something you may find in a tree and picture mascara ! if you already use the joker hints then just find the 1st letter or count the words solution on the word list below and you can complete 94 percent of the given answers !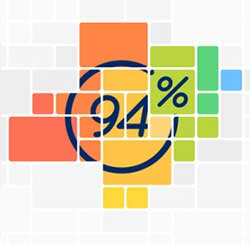 94% You put them in your ears
33% Earbuds
23% Cotton swabs
11% Earrings
11% Earplugs
8% Fingers
4% Hearing Aids
4% Drops
94% Something you may find in a tree
39% Bird
22% Squirrel
18% Nest
12% Cat
3% Tree house
94% Mascara picture
34% Eye
30% Mascara
19% Eyelash
6% Eyebrow
5% Brown
type in the words of you question and get stars when you complete each level ! challenges your brain and knowledge with this one of the best trivia puzzle : 94% game by Scimob, if you can't figure out the solutions then find all of them in 94 percent game answers list !