Solution for My Escape Puzzle Level 31 32 33 34 35 Walkthrough – There are no help or hints inside this game ! so if you need help to solve the hard puzzle logic to solve 🙂 find items, look for codes or puzzle hidden somewhere in this room and try your best to find the solution ! if you feel frustrated then get all the answers here with explanation !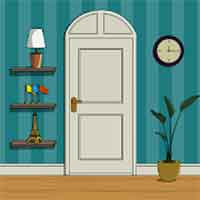 room escape game by 10P STUDIO on iOS and Android
My Escape Puzzle Level 31 Walkthrough
tap the fish tank and follow the direction of the fish point to
you need to tap ball in order one by one

get the blue ball and put it on the round device
open the right bottom drawer and use this clue to put the ball in correct position
My Escape Puzzle Level 32 Walkthrough
get the pencil and open adair book, use the pencil to reveal some numbers
if you read the envelope you will find the clue :
"I am very sorry, i can only leave you alone for night work today.
–Aaron Thur."
thur = 8960465 ?

just ignore the letters match the calendar to get the numbers for duty roster for adair
enter 7849 for the answer
My Escape Puzzle Level 33 Walkthrough
open left panel by pressing the two top buttons
get the paper for morse code
the clue is SOS

so enter :
S = . . .
O = – – –
S = . . .
My Escape Puzzle Level 34 Walkthrough
from left – top to bottom – to right – top to bottom = 1-12
follow the clock's hand for the order of length : 9 2 7

tap
INAUDAX on right
IGnite on left
VICTIM on right
My Escape Puzzle Level 35 Walkthrough
use the dial and grasp + drop button to move the present box on the correct position

red = D – 1 + garsp – left + A – 3 + drop
blue = A – 2 + garsp – right + D – 2 + drop
green = left + C – 3 + grasp – A – 1 + drop
The task is simple, solve the puzzle to open the door ! sometimes you need to find key and in order to do that you also need to find the puzzle and escape the room ! follow the instruction here to help you solve all My Escape Puzzle Walkthrough list !