Solutions for My Escape Puzzle Level 41 42 43 44 45 Walkthrough – There are no help or hints inside this game ! so if you need help to solve the hard puzzle logic to solve 🙂 find items, look for codes or puzzle hidden somewhere in this room and try your best to find the solution ! if you feel frustrated then get all the answers here with explanation !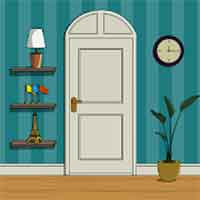 room escape game by 10P STUDIO on iOS and Android
My Escape Puzzle Level 41 Walkthrough
open bottom left drawer and match the 3 images with clue one by one

1st : cloud = mountain
2nd : water = fish
3rd : plane = bird
My Escape Puzzle Level 42 Walkthrough
get the rectangle on floor and connect it to right panel
you need connect the color like for each letters from left to right

My Escape Puzzle Level 43 Walkthrough
get the weights and put it on scale :
1 2 3 on left
4 5 6 on right
tap white button
now put 1 on left and 2 to right
tap white button

now put the lightest weight here on the box : 1
you will get the weight, now put it to right scale to open door
My Escape Puzzle Level 44 Walkthrough
the book is the clue for the order of each symbol
you need to turn around the items facing each other in correct position

top = sun
right = flower
bottom = snowflake
left = plant
My Escape Puzzle Level 45 Walkthrough
open book for clue : 9 o'clock
get the handle and connect it to handle
change the time into 09:00

The task is simple, solve the puzzle to open the door ! sometimes you need to find key and in order to do that you also need to find the puzzle and escape the room ! follow the instruction here to help you solve all My Escape Puzzle Walkthrough list !